How can I help?
Many people ask how they can help.  There are 4 main ways:
Share the topics and pages that you find interesting on your social networks or blogs. 

 

The more people that know about us, the more powerful our voices will be.
Participate in the discussion.

 

We want to hear people's opinions, whether you agree with us or not!  The more people that are involved, the better the discussions will be.  We are active on Twitter the most and Facebook as well.  Follow our social media.
Shop on Amazon with the link below.

 

 If you want to support us financially, the easiest way is to use our link for your Amazon shopping.  You get the same prices and service from Amazon, but we receive a small commission for any purchases through the link.  You can bookmark the link and use it in the future, too.  Any financial support that we receive allows us to spend more time on the site providing great content and information for everyone!
Contribute an article or guest post- We are looking for people that would like to write about issues they are passionate about and issues that impact their local area.  For more info, visit our article for contributors.
We look forward to growing this site and bringing awareness about Independent and 3rd party issues.  Join us in this mission to change the status quo in Florida and the country!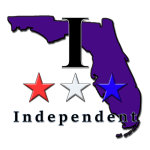 Independent Florida is a participant in the Amazon Services LLC Associates Program, an affiliate advertising program designed to provide a means for sites to earn advertising fees by advertising and linking to Amazon.com